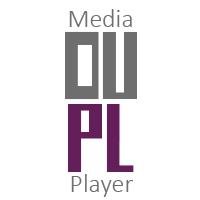 Dupl is a package of media players including:
Dumep, a light and simple media player.
Dufrap, a very light and simple frame sequence player.
Duduf Frame Player
Dufrap, is a frame sequence player conceived to be the most simple and efficient. It uses a frame buffer to quickly preload images in memory, which enables realtime playing up to 60 frames per second with a very short loading step. This buffer is adjustable to adapt to any kind of computer, any image definition and any use. If your computer is very powerful or if your frames have a not-too-high definition, you can lower and even deactivate frame buffering, otherwise you can rise it.
Warning, the 32bit version can not use more than about 1.5GB of memory. Make sure to download the 64bit version if you have long sequences in high definition.
Dufrap can read, among other formats, JPEG, PNG, TGA, TIFF, GIF…
1. Drag & Drop, To open a frame sequence, just drag any file in Dufrap, the sequence will automatically be detected. If you drag & drop a folder, all images in this folder will be opened.
2. Forward and reward playing
3. Frame by frame
4. Seek with realtime display, even without buffer.
5. Frame buffer completely adjustable very easily..
6. Adjustable FPS and zoom, with a warning if the computer can not play in realtime.
7. Playing GIF and MNG too.
Duduf Media Player
Dumep is a media player conceived to be the most light and user friendly.
It still has some "essential" functionnalities:
1. Playlist
2. Favourites just one click away and easy to manage
3. Seeking frame by frame in videos (for animators, it really is essential)
4. Reward playing if format supports it
5. Drag & Drop to easily open files or folders, and even URLs
6. Adding files, full folders, or audio and video streaming for webradios and webTVs
And classic functionnalities (loop, shuffle, etc.)
Supported file formats depends on your OS and installed codecs. Under Windows, Dumep uses Directshow and should play usual formats. Under Linux, Dumep uses GStreamer and can read all formats provided by GStreamer plugins (there are plugins for nearly every formats).
Free!
Dupl has been created because it was needed in some animation productions, and now it's done, let's share it! Dupl is completely free, and will stay free, for any purpose. You can download it, use it, share it, modify it, as much as you want!
So, Dupl is free software licensed under GNU-GPL v3.
If you want to help development, so it can continue to evolve, and help maitain this website up, you can donate the amount of your choice.